Finally, a post! It's been one crazy month since I posted anything, and since I really have some stuff to write, here I am. I will try to make this as short as possible, but you and I both know that I can get wordy when writing my thoughts out…
Business as Usual: Work has been very good and very hectic at times as well. We have a large project that we are working on, and we hired on our first full-time employee. We're finally seeing some progress in our current project, and after struggling to meet our first deadline, we are currently ahead of our next one. Plus, we have some new work trickling in and it looks very exciting. Things are good at The Dot.
In the Navy Army: Last week, I said good bye and good luck to one of my closest life-long friends, Randall, who joined the Army National Guard late last year. He just set out on a 6+ month journey which includes Army basic training and Advanced Individual Training. It's been less than one week since he left, and I think we are all feeling it… of course, no one as much as his identical twin brother, Rickey. I will do the best that I can over the next several months to be a surrogate twin. Hey, there have been points in the past where people believed that Rickey and I were twins; I just don't think I can read his mind… yet…
Here is the flyer that I created for the going away party that we threw for Randall – I think it is dope, so I wanted to share it with the rest of you who may not have seen it yet (Extra special thanks to Mark and Jamey MacLeod for hosting the party):
lolcats are teh awesome: Oh yes, lolcats! Those funny, no – hysterically brilliantly amazingly funny (for the most part), kitty images with the 13-year old's internet grammar explaning the pics are the funniest thing on the internet that I have seen in a long time. I get a kick out of 90% of the images, so you should too… Here's a little sample: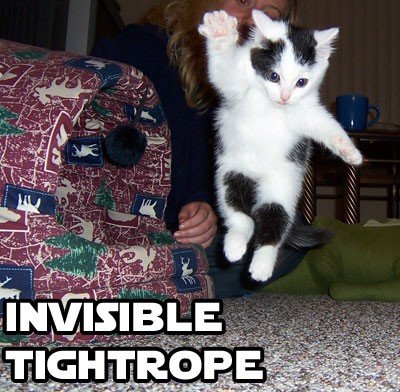 Image found on
I Can Has Cheezburger?
Check these out for some super duper laughs:
I Can Has Cheezburger?
Meme Cats
Cinco de Drinko: Phil and Debs had a party on Saturday, which was loads of fun. Lots o' beer and food stuff. De la Hoya – Mayweather fight. Ben Araiza in town. Mikey and the Dumb One. Lots of people hanging around. Drunken Karaoke + Drunken Guitar Circle = not good. But 90% was great. Had a blast. Thanks Philly and the Debs.
And hello to Anne (no, not Anne "I married 'the guy who wrote the song Slither, but Slash stole it from me'", but rather Anne "Yarsh has an incredibly large horde of Diet Dr. Pepper and I want him… to move so I can have some")
Post Compleet – kthxbai!
[tags]Connected Dot, lolcats, I Can Has Cheezburger, Meme Cats[/tags]